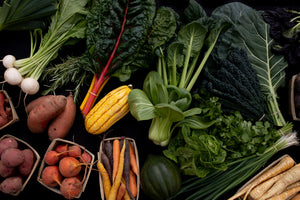 Purchasing a Year Round CSA share now will reserve your spot to begin in June, 2024.
Our Year Round share offers all of the bounty of a summer share, plus the excitement of something green in the winter! The winter months bring in a variety of greens, which include items like lettuce, kale, spinach, salad mixes, radishes, and cilantro. Greens make up roughly half of the available items. The other half includes storage crops like squash, onions, garlic, carrots, beets and parsnips to name a few. 
Purchase a Year Round Discounted SNAP CSA share here.
SIZE: Small: 18 points (4-6 items); Medium: 36 points (8-10 items); Large: 54 points (12-14 items) 
U PICK: If you choose the Farm as your pickup location, you'll receive free U-pick items (limited to a certain weekly quantity) as a part of your share. During the peak of summer, we'll have items like beans, cherry tomatoes, and a variety of peppers to pick for zero points! 
PICKUP LOCATION: Choose one of the following days as your permanent pickup location for the season. If you need to change a pickup location due to special circumstance, please email csa@greenwagonfarm.com at least one week prior.
-Tuesdays, 3:30-6:00 PM at the Farm
-Wednesdays, 4:00-6:30 PM at Fulton Street Farmers Market
FREQUENCY: Year round shares are only available on a weekly basis. This 50 week share runs every week except for the week of Christmas and the week of Spring Break.
MARKET STYLE PICKUP: Choose to customize your share in person. We will display all of the options for that week in labeled bins where you can choose the specific items you want. Points and vegetable names are labeled. This style of pickup works on the honor system with no checkout. Our Pickup Coordinator is on site to help answer questions and give suggestions on how to use different vegetables. 
PAYMENT: We offer automatic monthly payments by default, or you can reach out about another preferred payment plan. You'll pay for your first month upon signup, followed by monthly invoices through Quickbooks. You'll also have the option to sign up for automatic payments through Quickbooks.
2024 PRICING:  
| | | |
| --- | --- | --- |
| Share Size: | Monthly | Weekly |
| Small: | $72.00 | $18.00 |
| Medium: | $136.00 | $34.00 |
| Large: | $200.00 | $50.00 |
Please reach out to csa@greenwagonfarm.com with any further questions regarding the program.