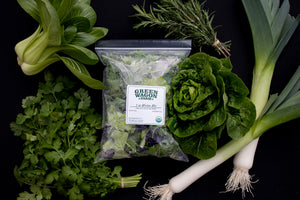 Not sure if a CSA is right for you? Purchase a Two Week Trial to see how ours works! The trial is for the Small CSA share only and runs for two consecutive weeks. The trial operates just like our Summer & Year-round CSA program, with members choosing their own veggies from 20+ options.

Please email us at csa@greenwagonfarm.com to schedule your start date.
SIZE:  Small: 18 points (4-6 items)
U PICK:  If you choose the Farm as your pickup location, you'll receive some free U-pick items (limited to a certain weekly quantity) as a part of your share. During the peak of summer we'll have things like beans, cherry tomatoes and a variety of peppers for you to pick for zero points! 
PICKUP LOCATIONS:  
The Farm: Tuesdays 3:30-6:00 PM 
Fulton Street Farmers Market: Wednesdays 4:00-6:30 PM 
MARKET STYLE PICKUP: 

 
Choose to customize your share in person. We will display all of the options for that week in labeled bins where you can choose the specific items you want. Points and vegetable names are labeled. This style of pickup works on the honor system with no checkout. Our Pickup Coordinator is on site to help answer questions and give suggestions on how to use different vegetables. This pickup style is only available at our Tuesday Farm and Wednesday Fulton Street Farmers Market locations.